Five years ago I decided to start a blog, a hacky Onion ripoff dedicated to nothing but Philadelphia sports and being an absolute piece of garbage on Twitter. It's been five long years of this HORSESHIT at the Coggin Toboggan and frankly it feels like a prison sentence that just won't end.
But lucky for you I've become accustomed to the inside and there's no way I'd survive on the outside. I'm stuck in this hell of my own creation and will take it to the grave with me.
Nearly 200,000 visitors. Nearly 1,000 posts (of which 50 were quite good). An annually running All-Philadelphia Royal Rumble that I THINK people still enjoy reading every year? What can I say, it's actually been fairly fun.
From mortal enemies with Les Bowen and Dave Coggin to the best of friends (seriously, Les is the man), interviews with famous comedians with bad/lazy publicists who actually granted me time with them, to actually making money off this dumb site….it's been a HELL OF A RIDE.
We've seen and written some crazy shit in the last five years. Interviewed standup comedian and "Top-Gear" host Adam Ferrara for some reason? Sure. Made fun of Rob Ellis incessantly? Absolutely. Tricked Dan Soder, Mafee from "Billions" and an extraordinary standup comedian into an interview that somehow became a permanent citation on his Wikipedia page? You're goddamn right we did.
Had one of our Bryan Colangelo hit-pieces featured on The Ringer's national take down of Colangelo's burner-gate conspiracy? We sure did.
Forced to take down a post about pall-bearers reverse slam dunking Darryl Dawkin's casket into the grave after a member of his family contacted me and demanded we take it down? That actually happened, yes. Oh well, I still think he would have been cool with it.
Threw my name in the hat as the new 97.5 Fanatic midday host? I'm still waiting to hear back from them. Think I still have a chance at it.
It's been a fun five years. Here's my first post ever.  Enjoy!
Celebrate our anniversary by putting money in Old Uncle Coggin's pockets and buying Sixers gear by clicking the banner below.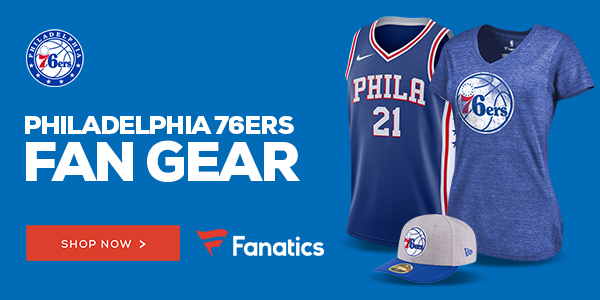 <