Sixers basketballllllllllll is back! We are ROLLING into the 2019-2020 season with a perfect 3-0 slate as your PHILADELPHIA 76ERS look to be legitimate contenders for the NBA crown. The team is prime, the team is young, and the team is hungry for success…which makes this look back into the shitty time capsule of 76ers past all the more pleasing.
The year was 2012. Mark Zumov and Malik Rose were teaching Philadelphia how to love again. The 76ers were fresh off a trade that would SURELY send them hurtling into the stratosphere of the top NBA teams with their acquisition of Andrew Bynum. Bowling jokes were at an all time low in the Delaware Valley.
The Sixers had a young promising roster…and with youth, with inexperience, comes the innate inability to say, "Hey, this TV spot is a really stupid idea and I'm not doing it."
Thanks goodness nobody had the respect for themselves to speak up and refuse to shoot this commercial, giving us the pleasure of looking back on it today.
Jrue Holiday! Evan Turner! Spencer Hawes! Royal Ivey! Nick Young! Dorrell Wright! All delightfully and stuntedly struggling to read Zumov play-by-play catch phrases off of cue cards! SURELY THIS CORE OF TALENTED AND FRESH FACED SIXERS WILL BE AROUND FOR MANY YEARS TO COME!
Thaddeus Young was likely the only veteran with enough pull to shake his head and walk offstage when approached to do this commercial.
What a treasure trove of delightfully young athletes who just don't know any better. Hawes is doing a Marv Albert impersonation for some reason, Turner is far too happy to be appearing in the spot and had yet to be beaten down by expectations, and Swaggy P says "boomshakalaka" at the 0:07 mark in a manner that no human being has ever said before or will ever again. What….what was he going for there? Why did that make the cut? What am I missing here? Was it an artistic choice to deliver the line in a manner that makes any who hear it immediately hate your guts? Knowing Swaggy P that's probably what he was going for.
Dorell Wright is prominently featured, undoubtedly for his ability to read, smile, and deliver a simple line all at the same time without drooling all over himself first. He gets TWO lines, which must have really bumped up those Wright jersey sales from two to three on the year.
And in by far the most successful thing he ever accomplished in a 76ers uniform, team leader Bynum delivers a strong and oh-so-natural line reading of "We…live….Sixers" to close out the spot. Christ, put a little stank on it Bynum, get your mind off the open frame in the 10th you left at NorthBowl the night before and give us SOMETHING to get us jacked. What a complete loser.
Just a perfect trip back in time to when the 76ers were the fourth most important franchise in this city. Completely mired in mediocrity, no direction, no purpose, no acting abilities….just a perfect microcosm of what it meant to be invested in the Sixers during that moment of time.
Always remember everyone, "We….live……Sixers."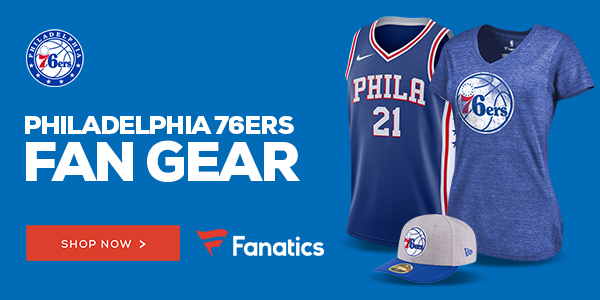 <